ROCKIN' MIKADO (World Premiere) (1998)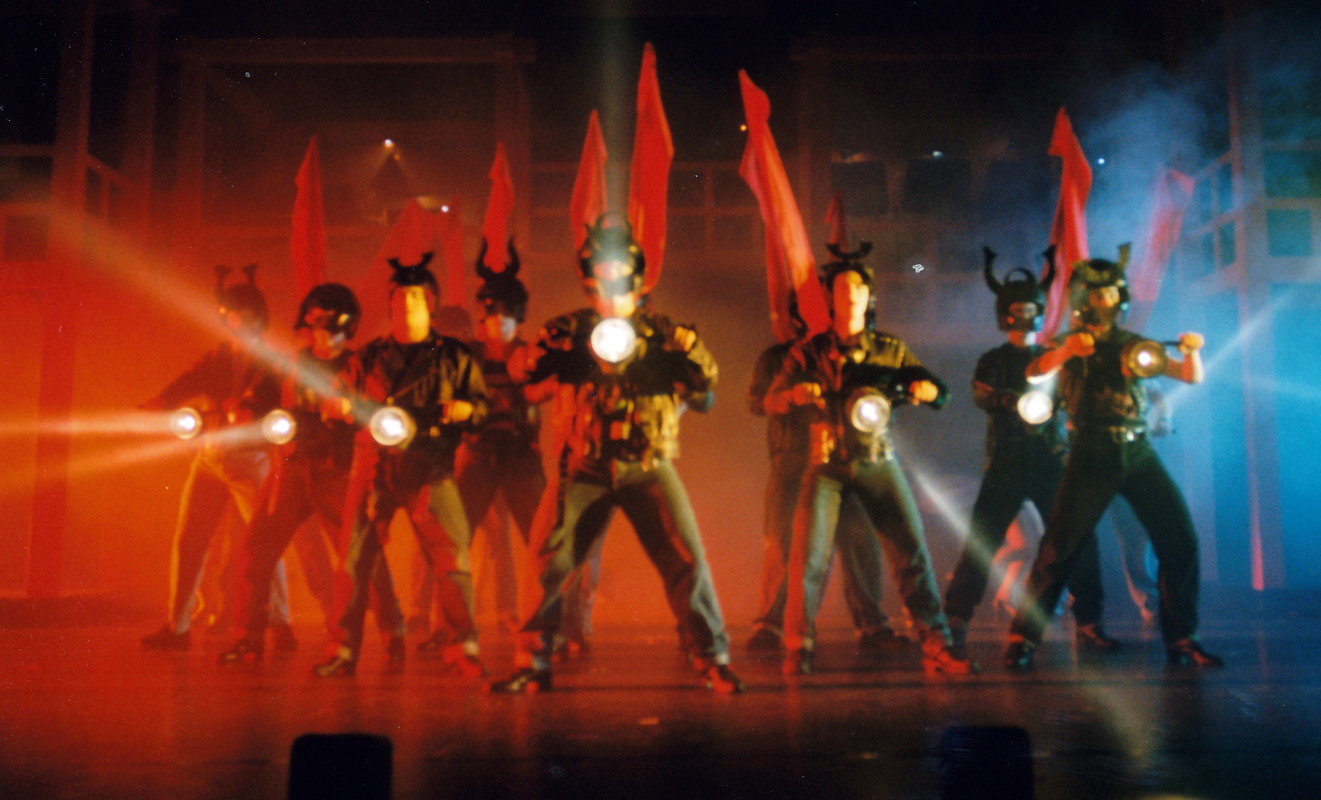 Nominated 'Best Visiting Production', Manchester Theatre Awards 1998
Palace Theatre, Manchester
Waterfront Hall, Belfast
His Majesty's, Aberdeen


| | | | | |
| --- | --- | --- | --- | --- |
| CAST: | | | PROFESSIONAL STAFF: | |
| Nanki-Poo | Glen Wallace | | Director/Writer | Michael Poynor |
| Pooh-Bah | David Cox | | Musical Director/Composer | Mark Dougherty |
| Pish-Tush | Mark Dugdale | | Designer | Elroy Ashmore |
| Ko-Ko | Paraic Duignan | | Lighting Designers | Michael Poynor |
| Yum-Yum | Gemma Murphy | | | Keith Shanks |
| Peep-Bo | Deborah Maguire | | Sound Designer | Patrick Dalgety |
| Pitti-Sing | Clare Donnelly | | Production Administrator | Niall Cranney |
| Katisha | Rachel Tucker | | Aerobic Dance Instructor | Martin Wong |
| The Mikado | Richard McFerran | | Tai Chi Instructor | Peter Gilligan |
| Ensemble | Marcia Cassidy | | Voice Coach | Paul Nemeer |
| | Gordon Crawford | | Laban Movement Coach | Anne-Marie Matthews |
| | Paul Garrett | | Wardrobe Mistress | Pat Musgrave |
| | Joanna Haughey | | Master Carpenter | David Holland |
| | Kellie Irwin | | Scenic Artists | Sarah Holland |
| | Packy Lee | | | Stuart Marshall |
| | Claire Lewis | | Emergency Aid Trainer | Vi Bowler |
| | Stephen Maguire | | Marketing Assistant | Karen Rush |
| | Julie Mitchell | | BAND: | |
| | Lee-Anne Mulholland | | Keyboards/MD | Mark Dougherty |
| | Anna McAllister | | Trumpet | Alisdair Wallace |
| | Antoinette McCann | | Guitars | Jim Armstrong |
| | Gerard McCarthy | | Saxaphones | Bob Hunt |
| | Sean Pol McGreevy | | 2nd Keys/Trombone | Wilson Shields |
| | Samuel Nicholl | | Bass | Rod Patterson |
| | Emmet Owens | | Drums | John Wilson |
| | Peter Quinn | | | |
| | Clare Rose Savage | | | |
| | Naoimh Scullin | | | |
| | Margaret Thompson | | | |
| Stage Manager | Mark Elliot | | | |
| DSM | Aileen F Gorman | | | |
| ASM | Zara Casey | | | |
| Production Asst | Stephen Molloy | | | |
Those in bold italic type went on to pursue careers in the Performing Arts.
---
MEDIA QUOTES:
This is 'dancing in the aisles' entertainment. Set in modern day Japan ... flashy, sumptuous, the stage pulsating with light and neon. Every number is a show stopper ... exhuberant, robust and raunchy ... Rachel Tucker's figure hugging, titillating, whips akimbo, power hungry Katisha was extra special. This Mikado displayed more theatrical honesty than the more auguste body (D'Oyly Carte) on the South Bank (Royal Festival Hall).
GILBERT & SULLIVAN NEWS
---
The surprise hit of the summer season. An astonishingly lively update of Gilbert and Sullivan's most popular operetta ... their first visit to Manchester, but, judging from last night's ecstatic audience reaction, it won't be their last.
MANCHESTER EVENING NEWS
---
The Ulster Theatre Company ... a uniquely enjoyable evening for anybody who's got a soft spot for imaginative innovation.
WHAT'S ON - NORTH WEST
---
This is how I like my Gilbert and Sullivan. As hot as a blast furnace, this is an astonishing achievement.
ABERDEEN EVENING EXPRESS
---
A very, very strong contemporary musical that aspires to greatness ... a daring adaptation of a classic (which) has refreshed the piece enormously.
IRISH TIMES
---
This show ranks with the best the city has seen. What ambassadors for Ulster theatre these young people will be.
BELFAST TELEGRAPH
---
Big on spectacle ... the hit show of summer '98.
NEWSLETTER
---
Click on image to enlarge: