OKLAHOMA (1996)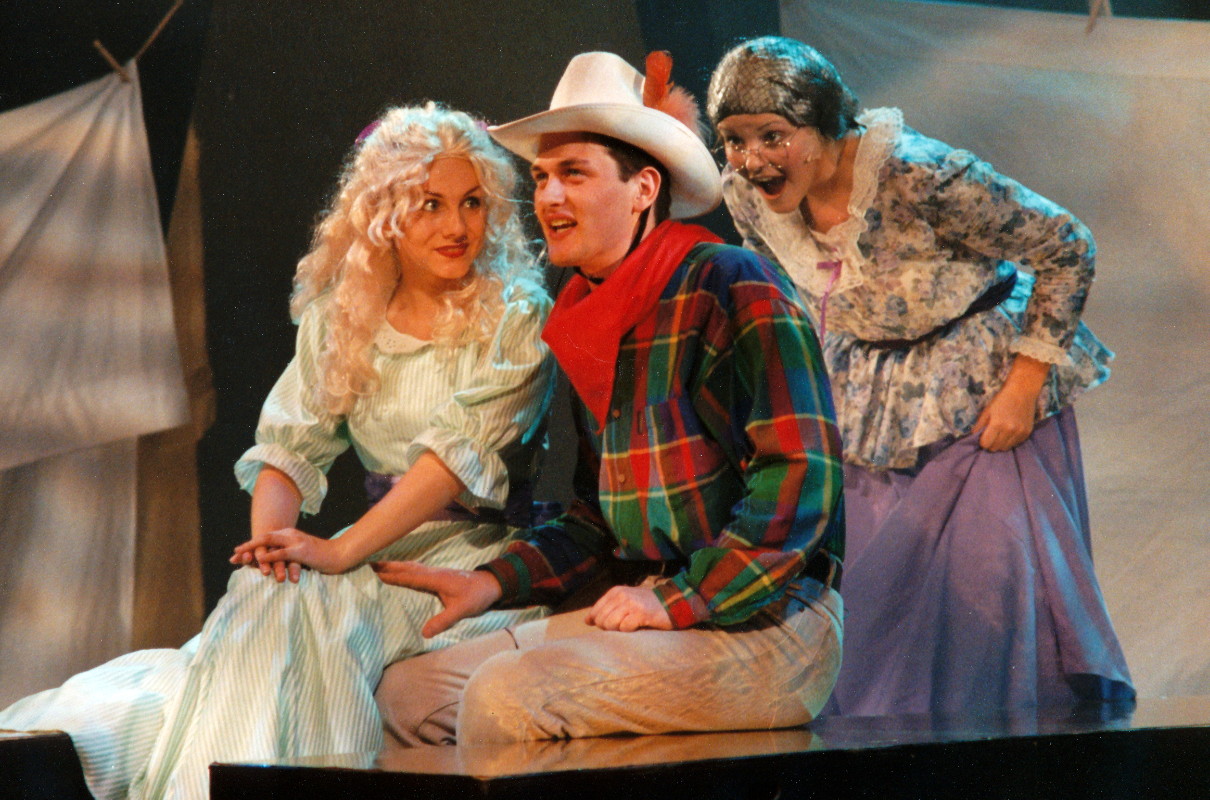 'Best Musical' Award, Belfast Telegraph 1996
Grand Opera House, Belfast
Cork Opera House
Town Hall Theatre, Galway
| | | | | |
| --- | --- | --- | --- | --- |
| CAST: | | | PROFESSIONAL STAFF: | |
| Aunt Eller | Tara Lynne O'Neill | | Director/Designer | Michael Poynor |
| Curly | Glen Wallace | | Musical Director | Mark Dougherty |
| Narrator | Colin Hand | | Choreographer | Martin Wong |
| Curly (dream) | Jonjo O'Neill | | Lighting Designers | Michael Poynor |
| Laurey | Karen Rush | | | Alastair Kerr |
| | Eimear Hughes | | Sound Designer | Patrick Dalgety |
| Laurey (dream) | Deborah Maguire | | Production Manager | Marianne Crosslé |
| Ike Skidmore | Greg McGeown | | Aerobic Dance Instructor | Martin Wong |
| Fred | James Rafferty | | Costume Designer | Pat Musgrave |
| Slim | Stephen Smyth | | Voice Coach | Debra Salem |
| Will Parker | Emmanuel McStravick | | Laban Movement Coach | Anne-Marie Matthews |
| | Jonjo O'Neill | | Wardrobe Mistress | Pat Musgrave |
| Jud Fry | David O'Toole | | Master Carpenter | Alastair Kerr |
| Ado Annie | Donna Murdoch | | Scenic Artists | Stuart Marshall |
| | Rachel Murray | | Mask Making Instructor | Frank Quinn |
| Ali Hakim | Chris Robinson | | Fight Director | Michael Poynor |
| The Preacher | Paraic Duignan | | Projection Designer | Alastair Kerr |
| | Emmanuel McStravick | | BAND: | |
| Gertie Cummings | Susan McKeen | | Keyboards/MD | Mark Dougherty |
| Ellen | Julie Alderdice | | Trumpet/Flugel Horn | Alisdair Wallace |
| Kate | Lynne Truesdale | | Guitars/Banjo | Joe Quigley |
| Sylvie | Sharon Clarke | | Saxaphone/Clarinet | Gerry Rice |
| Armina | Roberta Wilson | | Violin | John Fitzpatrick |
| Aggie | Natasha Deddis | | Bass | Rod Patterson |
| Eliza | Seana Montgomery | | Drums | Andrew Lavery |
| Annie | Gillian O'Regan | | | |
| Andrew Carnes | Paraic Duignan | | | |
| Cord Elam | Stephen Mackey | | | |
| Jess | Christopher Logan | | | |
| Joe | Gerard McCarthy | | | |
| Stage Manager | Stephen Maguire | | | |
| Tech SM | Colin O'Hare | | | |
| DSM | Clare Ewing | | | |
| ASM | Emma Calvert | | | |
| | Wallace Aldridge | | | |
| | Clare Newman | | | |
| | Philip Walsh | | | |
Those in bold italic type went on to pursue careers in the Performing Arts.
---
MEDIA QUOTES:
For my money the musical of the year was not the glamour of 'Evita' or the sugar and fizz of 'High Society' ... it was the Ulster Theatre Company's production of 'Oklahoma'. This innovative production ... breathtaking moments.
BELFAST TELEGRAPH
---
A stunning and mind bending production. Moments of high theatre, drama, gripping set-edge excitement and sheer 'oomph' pleasure that many a fully professional company would envy.
NEWSLETTER
---
Most exciting and vibrant interpretation of this grand old musical that I have ever seen.
CORK EXAMINER
---
As good as anything you might see in New York or London.
CORK EVENING ECHO
---
Click on an image to enlarge