GREASE (1995)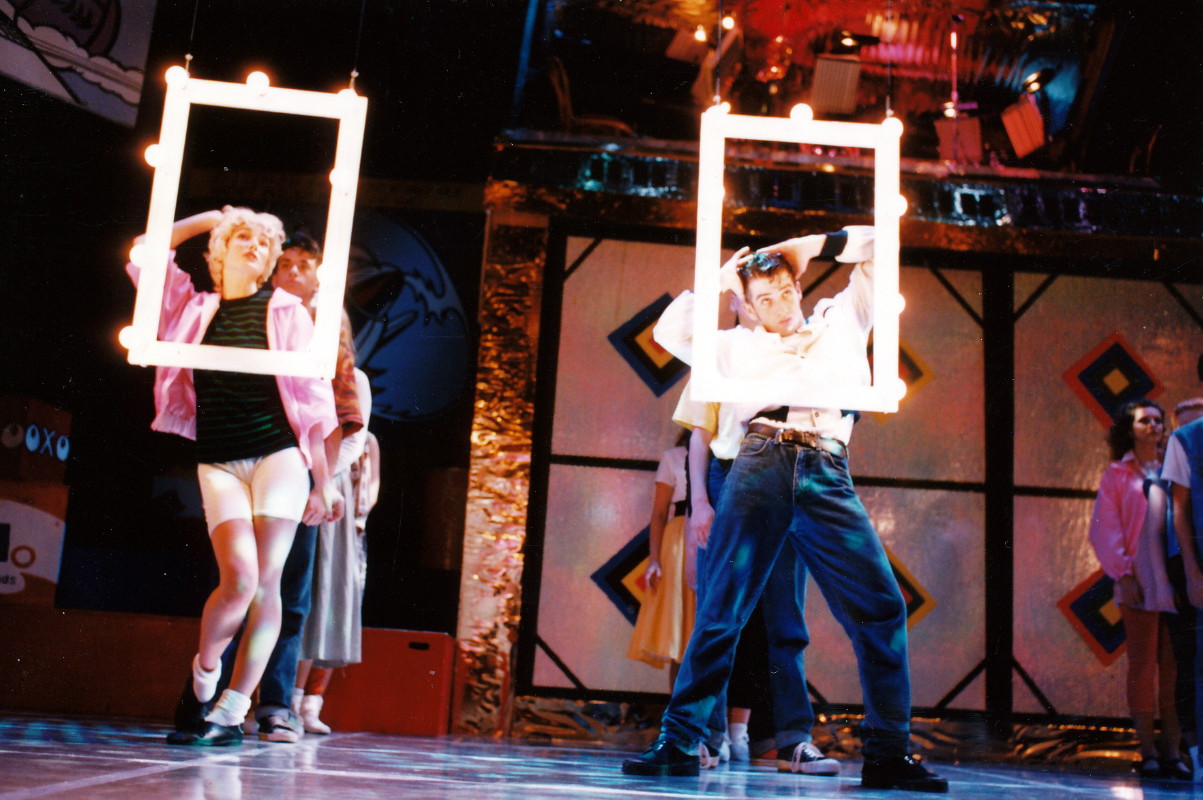 Riverside Theatre, Coleraine
Cork Opera House
Grand Opera House, Belfast
| | | | | |
| --- | --- | --- | --- | --- |
| CAST: | | | PROFESSIONAL STAFF: | |
| Danny | Maurice Jay | | Director/Designer | Michael Poynor |
| Kenickie | Glen Wallace | | Musical Director | Mark Dougherty |
| Roger | Keith Wilson | | Choreographer | Anne-Marie Brady |
| Doody | Conor Mitchell | | Lighting Designers | Michael Poynor |
| Sonny | Neil McGreevy | | | Alastair Kerr |
| Eugene | Stephen Smyth | | Sound Designer | Patrick Dalgety |
| Teenangel | Tommy Wallace | | Production Manager | Niall Cranney |
| Vince Fontaine | Chris Robinson | | Costume Designer | Ivor Morrow |
| Johnny Casino | Emmanuel McStravick | | Asst Director | Kieran McIlroy |
| Kyle | Andrew Clarke | | Wardrobe Mistress | Pat Musgrave |
| Donald | David Cox | | Mechanical Engineer | Tom Nelson |
| Peter | Paraic Duignan | | Sound Operator | Caroline Martin |
| Richie | Max Lundie | | | |
| Mark | Emmanuel McStravick | | | |
| Steve | Jonjo O'Neill | | | |
| Mike | James Rafferty | | | |
| Tony | Chris Robinson | | | |
| Larry | Barry Slowey | | BAND: | |
| Darren | Tommy Wallace | | Keyboards/MD | Mark Dougherty |
| Sandy | Tara Lynne O'Neill | | Trumpet | Alisdair Wallace |
| Rizzo | Karen Rush | | Guitar | Ivan Gilliland |
| Marty | Mairead Healy | | Saxaphone | Dermod Harland |
| Jan | Rachel Murray | | Drums | Brian Rice |
| Frenchy | Rhian Jones | | Bass | Rod Patterson |
| Patty | Deborah Maguire | | | |
| ChaCha | Faith Stevenson | | | |
| Miss Lynch | Cherie Speers | | | |
| Tiarra | Aideen McGaughey | | | |
| Laura | Eimear Hughes | | | |
| Rebekkah | Wendy McAllister | | | |
| Mandy | Diane Montgomery | | | |
| Nina | Ashley Smyth | | | |
| Phyllis | Margaret Thompson | | | |
| Annie | Lynne Truesdale | | | |
| Shirley | Eithne Venney | | | |
| Stage Manager | Clare Newman | | | |
| | Michael Graham | | | |
| DSM | Clare Ewing | | | |
| | Una McNeill | | | |
| ASM | Wallace Aldridge | | | |
| | Philip Walsh | | | |
| Tech ASM | John Diamond | | | |
| Sert Construction | Colin O'Hare | | | |
| | Stephen Molloy | | | |
| Props | Stephen Maguire | | | |
| | Stephanie Martin | | | |
Those in bold italic type went on to pursue careers in the Performing Arts.
MEDIA QUOTES:
Sheer magic ... gasps of admiration from packed houses. 'Like seeing a West End show' said one onlooker. And they were right ... the show was loaded with razzmatazz, excellent music from an all-star band, stunning choreography and wondrous performances.
COLERAINE CHRONICLE
---
Colourful, punchy and energy filled show. The slickest production of 'Grease' to date.
BELFAST TELEGRAPH
---
Terrific show!
SUNDAY LIFE
---
A visual delight, bursting at the seams with movement and colour.
IRISH NEWS
---
Absolutely terrific production. Pure professionalism.
CORK EXAMINER
---
Click on image to enlarge