WIZARD OF OZ (RSC version) (2000)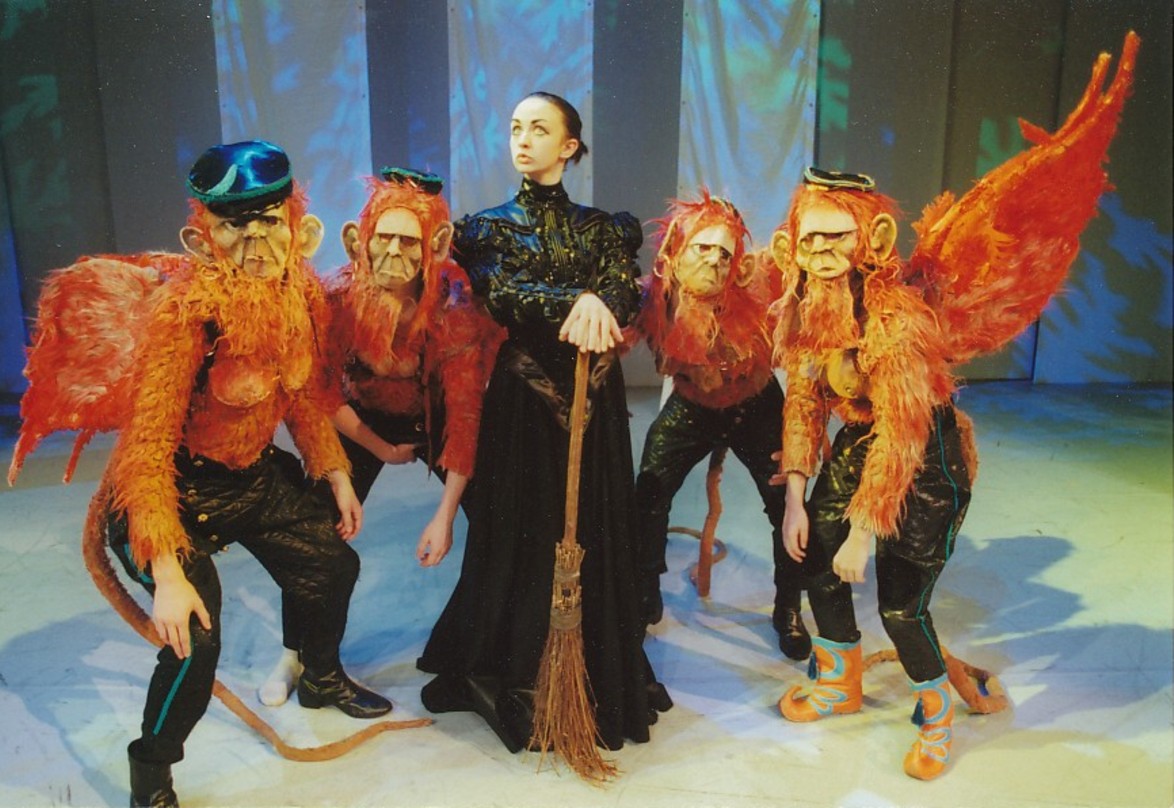 Rialto Entertainement Centre, Derry
Apollo Theatre, Oxford
Alexandra Theatre, Birmingham
Grand Opera House, York
Waterfront Hall, Belfast
| | | | | |
| --- | --- | --- | --- | --- |
| CAST: | | | PROFESSIONAL STAFF: | |
| Dorothy | Zoe Rainey | | Director | Michael Poynor |
| Zeke/Lion | David Cox | | Musical Director | Wilson Shields |
| Aunt Em/Glinda | Claudine Quinn | | Designer | Stuart Marshall |
| Uncle Henry/Guard | Robert Lewis | | Choreographer | Deborah Maguire |
| Hickory/Tinman | Emmet Owens | | Lighting Designer | Michael Poynor |
| Hunk/Scarecrow | Packy Lee | | Moving Lights | Alastair Kerr |
| Miss Gulch/Witch | Lisa Hogg | | Sound Designer | Adrian Sweeney |
| Prof. Marvel/Wizard | Adam Best | | Production Managers | Marianne Crosslé |
| Munchkins ) | Anna McAllister | | | Adrian Sweeney |
| Crows ) | Helen Boyle | | Costume Supervisor | Pat Musgrave |
| Sheaves ) | Conor Aiken | | Wardrobe Assts | Margaret Tumelty |
| Apple Trees ) | Colin Richmond | | | Madeleine Owens |
| Poppikins ) | Colm Kirwan | | Stage Manager | Marianne Crosslé |
| Snowflakes ) | Adam Best | | ASM | Sarah Holland |
| Osians ) | Carolann Carlisle | | Voice Coach | Linda Snell |
| Winkies ) | Julie Noble | | Laban Coach | Anne-Marie Matthews |
| Jitterbugs ) | Sarah Lyle | | Marketing Manager | Damien Murray |
| Denizens ) | Margaret Gibney | | Marketing Asst | Paula Bradley |
| Flying Monkeys ) | Gemma Murphy | | Set Construction | The Workshop |
| | Sinead Rafferty | | Costumes | Carousel Costumes |
| | Robert Lewis | | | |
| | Chris McLaughlin | | ORCHESTRA: | |
| | Rachel Murphy | | MD/Keyboards | Wilson Shields |
| | Liam Toal | | 1st Violin | Coleen Coyle |
| | Alan Keery | | 2nd Violin | Aisling Coyle |
| | Patrick McBride | | Cello | Scott Heron |
| | Kathryn McCrossan | | | Vivienne Long |
| | | | Bass | Lindsay McGuinness |
| | | | Flute | Jonathan Johnston |
| STAGE MANAGEMENT: | | | Clarinet/Alto Sax | Kevin Lawless |
| DSM | Clare Donnelly | | Clarinet/Ten. Sax/Flute | Gerry Rice |
| ASM | Damien Mullan | | | David Howells |
| | Stuart Musgrave | | Trombone/Tuba | Jim Kitchen |
| Dance Captain | Helen Boyle | | Percussion | Brian Rice |
| Marketing | Jolene Murray | | | |
Those in Italics Bold are known to have pursued careers in the Performing Arts
---
MEDIA QUOTES:
A clutch of future stars of the stage ... Lisa Hogg, Zoe Rainey, Packy Lee ... the qualities to go right to the top. A great night's entertainment. Michael Poynor's imaginative production, Deborah Maguire's superlative choreography, Stuart Marshall's clever set.
BELFAST TELEGRAPH
---
This hit production of the Wizard of Oz. Astounding results. Previous productions have been among the best musicals seen in Belfast in recent years.
NEWSLETTER
---
Youngsters roared with laughter. Zoe Rainey stands out as a wonderful Dorothy, the clowning of Packy Lee was a joy.
COVENTRY EVENING TELEGRAPH
---
Impressive Scarecrow and Tin Man with a more than passable Lion ... Lisa Hogg: a suitably sinister Wicked Witch and the sexiest row of apple trees imaginable!
BIRMINGHAM EVENING NEWS
---
Bright and energetic and filled with infectious good humour, performances are astonishingly fine. The huge Alexandra stage is used to its capacity. Here are performances which indicate a total commitment to a wonderful show and are both touching and praiseworthy. The whole evening was a revelation to me.
THE BIRMINGHAM POST
---
Click on image to enlarge